---
REGISTRATION FOR 2019

**Registration Deadline is May 1, 2019**


VETERANS PARK VENDORS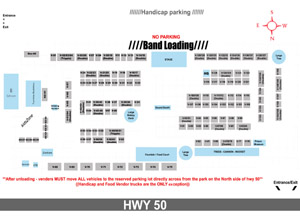 Download Map
The Veteran's Park Craft Fair is a TWO day event offering Vendor Spaces f
or the following:
2day Park FOOD Vendor: $385.00 | 2day Park CRAFT Vendor (10x10): $125.00
2day Park CRAFT Vendor (10x20): $200.00 | 2day Park CRAFT Vendor (10x30): $300.00
**Do not forget to mail in your Good faith Waiver, $50.00 deposit fee and Tax ID - AFTER the 1st of the year**
All Food Vendors must also provide Limited Liability Insurance & SEND Colorado Health Licenses to the proper location >> by following the instructions here.**
Please mail these documents along with signed deposit check payable to:
Canon City Music & Blossom Festival
PO Box 1914
Canon City, CO 81215
**By submitting this form, you agree to the Vendor Guidelines and your form submission also represents your electronic signature to that affect**
**PLEASE READ**
***PLEASE DO NOT MAIL IN YOUR DOCUMENTS UNTIL AFTER THE 1ST OF THE YEAR***
Your booth reservation is NOT complete until your signed waiver, tax ID (or special event license) and $50.00 deposit check for sales tax are mailed in. Food Vendors must also include a copy of their Limited Liability Insurance.
The waiver can be printed off Here: Good Faith/Waiver and the mailing address is located on that form.
**Handicap parking is available. and Special parking passes will be assigned upon your arrival**
We look forward to seeing you at the Fair!